Our Hospital Veterinary Team
Our compassionate team at Magic Valley Veterinary Hospital, prides themselves in taking the time needed to provide knowledgeable care by utilizing modern technology, medications, and methods. With dependable abilities and a delicate gentle touch, we care for your dogs as if they were our own pets.
MEET OUR CARING VETERINARY STAFF IN TWIN FALLS, ID
Magic Valley Veterinary Hospital in Twin Falls, ID is here to provide the best services possible to your animals at an affordable price. Our veterinarians will dedicate the time needed to deliver the most expert care available by utilizing state-of-the-art technology and techniques. We treat your pets as if they were our own with trusted skills and a gentle touch.
DR. CONNIE RIPPEL
Dr. Connie Rippel knew she wanted to be a veterinarian from a very early age.  In kindergarten, she drew a picture (stick figure of course) of what she wanted to be when she grew up and it was a veterinarian.  As a kid she worked as a kennel person for a local veterinarian as well as at the Sedgwick County Zoo in Wichita, Kansas where she grew up.
She went to the University of Wyoming for her undergraduate studies and then back to Kansas State University where she graduated from veterinary school in 1988.  She moved to Twin Falls right out of college and worked at Green Cross Veterinary Hospital before opening up Magic Valley Veterinary Hospital in 1992.  She loves having the opportunity to see so many different pets and people.  She has been seeing some of her clients for over 30 years now and has watched some of them grow up since their parents are also clients.  It really does feel like we are all part of a big family.
In her free time she loves going on walks with her dogs as well as spending time taking care of her lawn and gardens.  Backpacking and hiking with her spouse and dog is a passion, but she laughingly admits that the backpacking trips have less altitude gain and are shorter than they used to be .  Much of her free time is spent with family and with her many nieces and nephews.
DR. PAULA COX
Dr. Paula Cox is an east coast transplant. But since she has been here since 1995, she can call Idaho home. Dr. Cox earned her undergraduate degree from Duke University in 1985. She then attended graduate school in New Orleans at Tulane University. In 1990 Dr. Cox received her Doctorate in Veterinary Medicine from North Carolina State University.

While in veterinary school, Dr. Cox met and married her husband, Jay. After graduation, they moved to Wisconsin to start their veterinary careers. They enjoy hiking, fishing, and outdoor sports, but five long winters on Lake Michigan were enough. On to Idaho!
Dr. Cox joined the staff of Magic Valley Veterinary Hospital in June 1995. She enjoys the challenges of internal medicine and surgery. She appreciates seeing a wide variety of patients and spending time with their owners. When not at work, Dr. Cox can be found with her husband, two children, or any combination of dogs, cats, or cows.
DR. LISA LATSHAW
Dr. Lisa Latshaw was born, raised, and educated in Pennsylvania. She graduated from the University of Pennsylvania School of Veterinary Medicine in 1985. She's been working at Magic Valley since 2006. When not working, she can be found swimming, bicycling, running, skiing, or scuba diving.
DR. Laura Schultz
Dr. Laura Schultz moved to Twin Falls from Kansas after finishing veterinary school at Kansas State University and joined the Magic Valley Veterinary Hospital team in 2022. She attended Kansas State University in undergrad and got a degree in Animal Science. As a new graduate, she is excited to connect with clients and their furry friends. She grew up in Wichita, Kansas, and played volleyball and softball until she graduated high school. This helped instill Dr. Schultz's love for working with a team. She has a passion for providing her patients with the best care possible while also providing a comfortable environment.
In her free time, Dr. Schultz enjoys exploring Idaho with her husband, Jordan, and two dogs, Otis and Cricket. During the winter months, you can find Dr. Schultz on the mountain, snowboarding with her husband.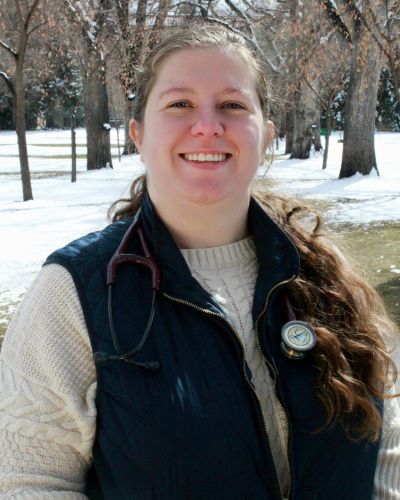 DR. Hannah Brown
Dr. Hannah Brown is delighted to contribute her skills and passion for veterinary medicine to Magic Valley as an associate veterinarian. She is delighted to return to the Magic Valley area she calls home after graduating from Colorado State University in 2023. She has a particular interest in soft tissue surgery and preventative medical care. Her hobbies include raising and caring for adorable sheep that keep her busy!
Our Veterinary Care Staff
MICHELLE, CVT/Hospital Manager
Michelle is a licensed veterinary technician. She started working for Magic Valley Veterinary Hospital in 1995 as a kennel assistant and found she enjoyed working in the veterinary hospital surrounded by animals and science. She graduated at the top of her class from the College of Southern Idaho Veterinary Technology Program as a member of the very first graduating class. She is an active advocate for the Vet Tech profession. She helped form the Idaho State Veterinary Technician & Assistant Association while in school and, after graduation, started the ISVTA Magic Valley Chapter and held the presidency for several years. Michelle is passionate about teaching and stays involved with the upcoming vet techs by sitting on the Advisory Board for CSI Vet Tech Program. When interns pass through the clinic, she enjoys helping them learn and sharing her love for their chosen career. You can always tell when she is working because she is generally chatting and singing whichever song suddenly pops into her head.
Michelle is married and has 2 grown children. Her favorite past time away from work includes being out in the sun fishing ( both locally & ocean), walking her beloved golden retrievers (Perry and Manny), chasing her gangster of a little dog (Capone, a chihuahua), spending time with her family, and going on Harley adventures with her husband, Darrin.
Of course, she is always hoping for world peace!
KIMBERLY, CVT
Kimberly has been working as a vet tech and receptionist at MVVH since 2006 and has worked in the veterinary industry since 2000. She feels rewarded by the challenges and really enjoys opportunities to assist our patients and their owners. She loves dogs, but cats will always hold a special place in her heart. She currently has two at home that appreciates a very spoiled life.
Marie, CVT
Marie Hoffman has been working at MVVH since 2018. She graduated from CSI's Vet Tech Program in 2019. She has two dogs and a bearded dragon.
Mariah, CVT
Originally from Washington, Mariah moved to the Twin Falls area in 2004. She graduated from the Vet Tech program at CSI in 2017 but has worked at Magic Valley Vet since 2016. She currently lives in Jerome with her boyfriend, four cats, a dog, a snake, and several saltwater fish. In her spare time, she enjoys camping, wood burning, working on home improvement projects, and taking her cat for walks.
Samantha, CVT
Samantha is  a native to the Magic Valley and knew she wanted to help animals from a young age. Following that dream, she graduated from CSI's Vet Tech program in 2021. In her free time she is  either at home enjoying a good book or hiking with my dogs.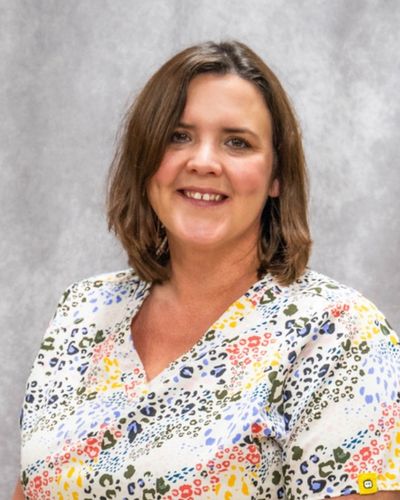 Christine, Vet Assistant
Christine moved here from Henderson, Nevada, where she worked as a vet assistant at a feline-only hospital for five years, where she was trained in fear-free handling and became very comfortable with cats. She has three dogs and two cats and really enjoys adventures with her dogs. She loves to read, draw and spend time with her granddaughter.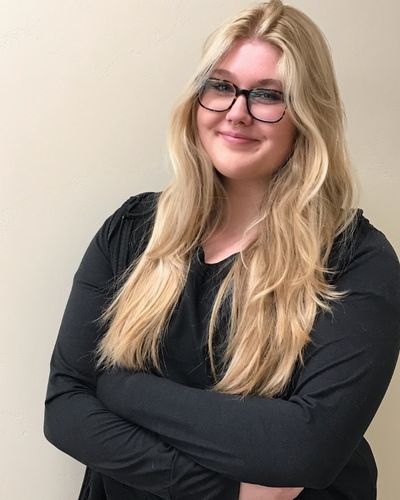 Sarah, Vet Assistant
My name is Sarah, I am a kennel assistant at MVVH. I started working in July of 2022 and have very much enjoyed the time I have spent here. In my free time, I enjoy taking my dogs for hikes, spending time with friends and family, going on road trips or traveling, doing art, and designing tattoos. I've lived in Twin Falls, Idaho, my entire life and am happy to be a part of such an amazing team.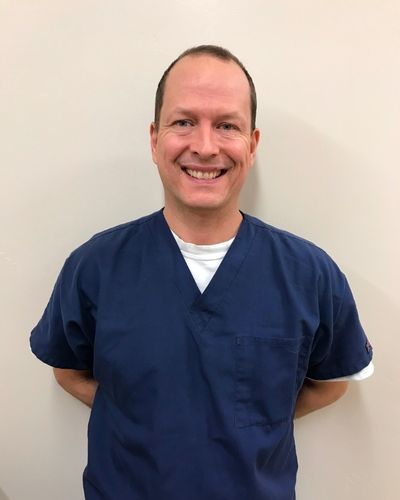 Joshua, Vet Tech Student
Joshua recently moved to Twin Falls, Idaho to study Veterinary Technology at the Collge of Southern Idaho. He has been with Magic Valley Veterinary Hospital since October 2022.
Kora, Kennel Assistant
Kora is a lifelong resident of Jerome, Idaho. She has spent the past 20 years living in the country. In her free time, she enjoys riding her two horses, Bailey, a Quarter horse, and Tabor, a Mustang which she gentled and broke to ride. Kora has a mixed Border Collie-Heeler named Claire that she loves to take hiking in the mountains. Spending time with her two cats, Flynn and Boots, brings her joy. In 2023, she received her Veterinary Assistant Certificate from Boise State University. In August 2023, she became part of the Magic Valley Veterinary Hospital family, where she loves working with the staff and animals.
Brittany, Receptionist
Brittany has been with Magic Valley Veterinary Hospital since June 2023 and has loved every minute of it! Brittany enjoys being outdoors and hiking. She has 3 four-legged children, a cat, a dog, and a bearded dragon.
Wilma, Clinic Mascot
Wilma joined Magic Valley Veterinary Hospital as a young kitten who was found badly injured by the road and brought to us by a good samartian. She specializes in entertaining our clients by being adorable in one of our front windows and taunting other cats at the hospital. Her attitude is very much, "You may look, but do not touch", which only makes us, her care givers, feel that much more delighted when she request extra attention. She really is one of a kind and we look forawrd to many more shared years.